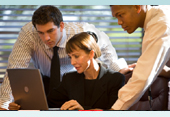 Whether you require a receptionist for a two day assignment or a long-term key executive appointment, we can help you!
Registering with Appoint Me® enables you to search (at no cost) our 'people on-line' database for self-listed and/or pre-screened ready now job seekers, by prescreened we mean interviewed, skill and reference checked personnel who are represented by a recruitment provider. Once you find a suitable job seeker, you make contact via a link on our website.
Alternatively you can set up an email alert and have the details of (prescreened ready now) job seekers who meet your criteria delivered to your in box as soon as they are added to our database.
Appoint Me® is diligent in providing all parties with a professional and ethical service, we respect user privacy over the internet and this is of utmost importance to us, click here to read our on-line privacy policy.
Registration

Registering as an Employer with Appoint Me® is a simple and hassle free process. Firstly you need to create an on-line account (1. Register as an Employer). Complete the online form and submit by clicking on create account. We will then contact you to verify your details and provide you with access to our people on-line database so that you're a step closer to filling your vacancy.