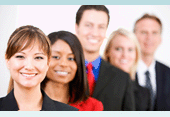 Looking for work? Sign up now, for work from home based jobs, or office based jobs!
Register with us if you are seeking casual, holiday, temporary, part-time, contract or permanent work in any industry sector.
Employers and recruiters search our database for job seekers, should they find your profile suitable, they will contact you via our website. Itís that quick and easy!
To protect your privacy, your job seeker profile i.e. skills, experience and qualifications will be listed on our database with a unique job seeker I.D. Your personal information is not visible to any party without your prior consent. Click here to read our on-line privacy policy
Looking for work during the COVID-19 Pandemic?

Sign up and join our growing pool of job seekers who are available to work remotely (select 'remote' option when choosing your job location).

Registration

Creating a job seeker profile is a simple and hassle free process. To register, complete the online form below and submit.