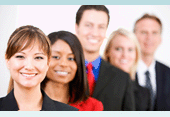 With 1200+ recruitment providers in the Melbourne CBD alone, it is impossible for you to meet with all of them! We can put you in front of numerous recruiters and employers so,
Register with us if you are seeking casual, holiday, temporary, part-time, contract or permanent work in any industry sector and at any level (the full range of job disciplines).
Recruiters and Employers search our 'people on-line' database for both self-listed and pre-screened job seekers, should they find your profile suitable and wish to meet with you, they will make contact with you via a link on our website. Itís that quick and easy!
Your job seeker profile (skills, experience, qualifications and availability for work) will be listed and promoted on our 'people on-line' database by a job seeker I.D. to protect your privacy. Your personal information (name and contact details) is not visible to any party without your prior consent. Click here to read our on-line privacy policy
Bonus, once you have attended an interview with a recruiter and completed the necessary skill testing and undergone the appropriate reference checks etc, you will have been qualified. The recruiter can then assist you further by promoting you as a pre-screened job seeker on our 'people on-line' database.
Registration

Registration is a simple and hassle free process. Start by (1. Create a job seeker account) then log in as a job seeker with your username and password - this will take you to an on-line form asking you to provide details of the position you are seeking, along with information about your skills, qualifications, experience and availability etc to create your profile. If you are a Ďjack of all tradesí or keen to undertake a temporary role whilst seeking permanent work, you can select and list availability for both temporary and permanent roles along with different job titles, technical skills and industry sector experience in the one profile. Your criteria(s) will then match more job opportunities. The more information you provide, the easier it is for a recruiter or employer to find you!

Start here and save information on each form as you enter it. Once you create your profile you can login and edit your details and availability at any time. Please ensure that your availability is up-to-date at all times.